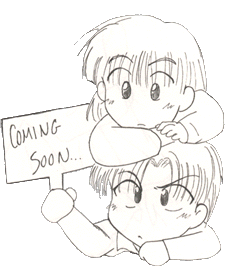 Coming Soon...
SPECIAL ANNOUNCEMENT!
COMING SOON -
THE FIRST ISSUE OF THE TUA ONLINE MANGA!!
FEATURING THE ACCLAIMED "Bang~"!!!
~
Mark your calendars, people. This is gonna be BIG.
Episode Fourteen:
"Stand Up! Class is Back in Session!"
Their short break is over, and things are back to normal. Sort-of. Keiko can't get why Otaru and Kakeru are giving each other funny looks...and Jiro is being way too friendly...even for Keiko's liking. Why is Staci so persitent on helping Anji and Rina with the music hall? Does she feel threatened?
New Images!
I've become a doodle maniac...surely I'll have at least a few doodles during college class...right?
(As Always) More Fanart!
Rii-chan's back, and the oekaki is crazier than ever...
TUA Omake Message Board!
A third message board where I will post extra little short stories to give you a glimpse into the entire cast's souls...is there something you wanna see? Tell me!